Pillow Block & Flange Bearings
Pillow block bearings, flange bearing units, bearing blocks, and take-up bearings units all consist of a housing with a bearing mounted in it. They are available in a variety of materials, mounting configurations, and various bearing features. Each mounted unit, including a mounted bearing, acts as a system to position the bearing securely for reliable operation. Read more about each type of pillow block bearing using the links below.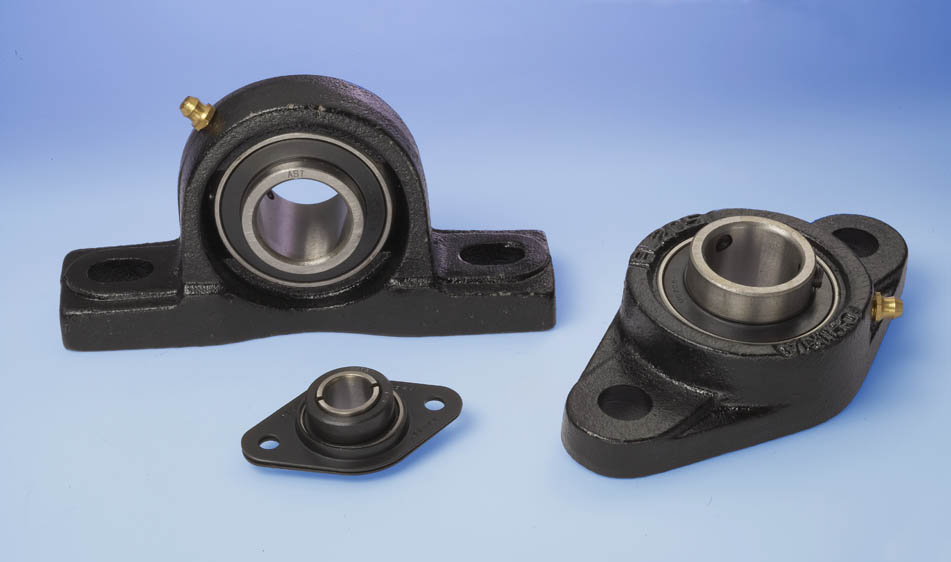 Bearings Catalog
Check out our online product catalog with more than 10,000 products with full specifications & 3D CAD Models available for download - all free of charge!
Pillow Block Bearing Types
Insert Bearings for Mounted Bearings
AST offers two types of insert bearings designed for use in mounted bearing units. Simplistically, they are divided by size with the smaller, miniature insert bearings called "collar clamp ball bearings" and the larger ones called the ER Series insert bearings:
Flanged Mounted Block Bearing Units
While other configurations are available from AST Bearings upon special order, the most common flanged mounted block bearing units are either two-bolt or four-bolt designs. Small two-bolt designs are commonly called flangettes but are of a totally different construction and design to the heavier duty Two-bolt flange series. Click on the hyperlinks of the below to learn more each type of flanged mounted bearing units:
Axially Opposed Mounted Bearing Units
While the flanged mounted bearing units above have the axial/shaft perpendicular to the mounting surface, the units below have the shaft running parallel to the mounting surface. Click on each of the series below to learn more about each type:
Flanged Ball Bearings (Non-mounted)
Besides the mounted flanged bearing units above, many ball bearings have flanges as options to their configurations to aid in mounting and positioning. This is especially true for miniature and instrument bearings but applies to other ball bearing types. To see what AST offers in flanged ball bearings (non-mounted), please visit the links below:
Learn More
How to Select Pillow Blocks, Flanges, Take Up Units, Mounted Bearings, and Bearing Inserts
Learn More
Ask A Question
Ask us a question and one of our team members will respond as soon as possible.
Fields marked with * are required.